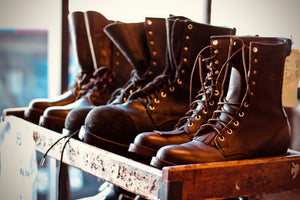 You get what you pay for.
It's no secret that the tag on a pair of our boots is at the higher end of most work boot offerings. But, why is that? It's not an arbitrary choice, not in the least. Perhaps, however, we have not been as transparent or at least as vocal about the reasoning behind our claims of:
'The best work boot in the world'. 
Let's start with the basics- the boot itself. We build using the highest quality leathers available to us in the world, without compromise.
We take time during the design of each boot to think about its future purpose, and choose a durable leather that will be best suited to the specific trade.
Why do we use leather instead of synthetic materials? Well, it's easily cared for and maintained, and durable. It's easily conditioned and can be made resistant to weather. Leather being a natural product; breathes easily, absorbs moisture, and will eventually conform to shape becoming unbelievably comfortable (without losing its ruggedness). It's also a sustainable byproduct of the meat industry, which would be wasted otherwise.
And, damn, it just looks good. 
The construction of our boots takes quite a bit of time as well. Once a production ticket has been made, our cutters pull a roll of buffalo, or some other hide, out of our atheneum of leather, and begin to cut the specific pattern. The leather cuts are put together meticulously by our seamstresses, before being lasted to the proper size and shape. 
They're then soled by hand, with brass nails, that have to be custom made for us specifically since other manufacturers moved on to cheaper and less durable techniques. Finally, each boot is sanded and inspected to make sure they are befitting of the Viberg name. This stage, incidentally, is often done by Glen Viberg himself. 
All in all, the boots will pass through a minimum of five or more skilled artisans a day, as well as our owner, who work with strict attention to the tiny details of construction. This sort of commitment to quality limits us to finishing only a handful of work boots every day.
But because of this careful consideration to the construction of our boots, we never have an issue standing behind every pair that leaves our doors.
A major part of that confidence comes from the actual physical hands that built your work boots. A core tenant of our company is supporting the folks who work for us, manufacturing in Canada. We like to put our money where our mouth is; hiring the greatest boot makers in the world, and paying them their due. 
After all, you get what you pay for.
---