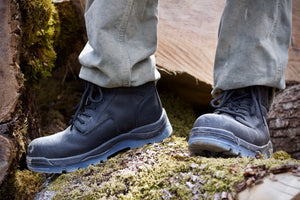 The Black Cat: Simplicity is more complicated than you'd think.
Live Edge Design is inconspicuously tucked away on the outskirts of the small Canadian town of Duncan, BC.
You would never guess, if you were to pass by, that the shipping containers scattered outside the building were actually custom built kilns, drying tonnes of ancient slabs inside them. 
Nor would you probably assume from the simple exterior of the shop, that some of the world's most beautifully made and designed furniture was being produced methodically and expertly by the many carpenters working away inside.
And, if you were to see one of the live edge tables or another offering of elegant design being built by those craftsmen, the amount of time and effort, skill and sweat that was obsessively poured over each individual piece, would astonish you.

Stéfane is one of those few skilled enough to produce this level of incredible craftsmanship. While he toured us through the buzzing shop, it was clear the men and women working around us were equally as much artists, as they were carpenters.
Like all good art, their work has layers and subtlety that would pass over most of our heads.
He explains first the yard behind the shop, where hundreds of slabs waiting to enter one of the many kilns; lay stacked patiently. To a layman's eye, there's not much difference to these slabs than a finished table in the showroom, save some polish and legs. 
Not even able to be worked on, at this point, they can spend a year or more being dried in the kiln before they even make it inside to the rack.
That's just the beginning of the process, there's a planer the size of a Volkswagen taking up almost an entire room that every slab will at some point be run through, and then finished by hand.
Every small crack, divot, hole, burle etc, is filled with an epoxy. 
And then, finally, they can begin to actually make furniture.
When Stéfane's Romeo boots by Stompers started to wear down from their career in the shop, he had spent enough time understanding exactly what he needed in a work boot.
Unlike the demands of other job sites, Stéfane's work has more time stationed at his work bench, meticulously sanding, chiseling, crafting whatever slab has most recently been chosen to be transformed. A lot of hours spent on one specific element of a piece, meant he needed a light, comfortable, versatile boot. That could also handle the rigours of an active woodshop. 
In a similar way, these boots are deceptively simple. A 6" high, black leather lace up work boot. Nothing out of the ordinary there. Its simple, classic, they'd be found on any job site (and honestly wouldn't even look out of place with jeans at the pub).
But to take a pair of Stompers at face value, you would miss all of the extra thought we obsess over during the design process!
Underneath the 5oz of full grain leather; this boot has a hydro-guard, anti microbial, mesh lined bootie, keeping the Black Cat completely waterproof.
Its been built with an anti fatigue polyurethane insole, so that your feet don't ache and keep you from accomplishing the day's tasks.
We've also made sure the Black Cat is completely metal free, and utilizes a kevlar lenzi plate and composite safety toe, to stay light while still offering all the protection of a steel toed boot.
So, yeah- We could have put some cheaper safety toe, in some inferior leather, with less thought and a smaller tag on the shelf.
You might've not even noticed the difference picking it up. But a year from now, headed out the door before the sun has even thought about coming up; Stéfane is going to know that we build boots like he builds live edge furniture.
With thought, effort, honesty and pride. 
Cheers, Stéfane! 
---