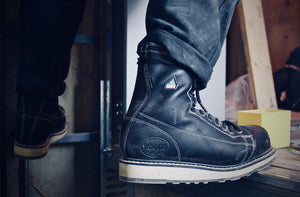 The Jobsite boot: Ironworker, lace-to-toe style, backed with some serious tech.
We had the opportunity to visit Andrew, a technician with Richmond Elevator, after he came by our warehouse to pick up his new pair of Stompers.
He decided on the Jobsite, a classic ironworker style boot, that we recently redesigned to be lighter, more flexible, and waterproof.
We spent a few hours together, inside the empty elevator shaft, and after trading jokes with the other tech- Andrew remarked how light he found the Jobsite, despite its rugged design. 
Anyone working in a commercial hi-rise setting knows; any extra weight, after 12 hours of going up and down (and if you're lucky without shouldering any material) it adds up!
A thermoplastic polyurethane wedge sole, 200 grams of 3m thinsulate lining, a kevlar lens sole plate- those are just a few things we've updated to this classic heritage boot.
Tech to keep you comfortable and warm, and lace-to-toe classic styling to keep you looking sharp! 
(alone, in a basement, in an elevator shaft, pretty much in the dark.)
Cheers, Andrew!
---