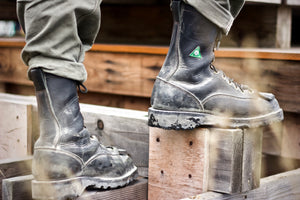 Viberg's classic Rigger boot. It ain't broke, there's nothing to fix.

The classic lace to toe style boot has been a bit of a sleeper in the Viberg factory for the past couple years. But is enjoying a renewed popularity with a new generation of tradesmen finding purpose in working with their hands.

For guys like Andrew- it resonated with the pride he takes to site everyday. The Rigger Boot's style alluding to the original 'cowboys of the sky' ironworkers who put their lives on the line for their livelihood. A time when your word, and your work ethic meant everything.


Luckily, it has never been a safer time to go to work. Although not much has changed within the design of the world's best work boot. Still being made with 7oz of heavy full grain oil tan cowhide. An intense 10 iron leather midsole, a 9 iron leather insole, and if that weren't enough: an 8 iron leather counter. 
The only thing that'll give you more support than these boots, might be a good hound dog. 
---
2 comments